I hope you enjoy the following recipe as much as I do.  This is a delicious Romanian eggplant salad that is amazingly simple and even more delicious.  You won't believe the flavor you get from just three ingredients.  The key is in the specific but simple preparation.
This recipe came from a Romanian friend of my sister whom she met while living in Montreal, Canada  Apparently, in Romania, a party just isn't a party without this traditional salad.  I'm told that it's common for Romanian women to roast many, many eggplants when they're in season and then freeze them for use all year round.  I can definitely vouch for the fact that roasted eggplant freezes beautifully and is nearly as good in this recipe as freshly roasted eggplant.
In addition to this salad, she also passed along some additional Romanian dishes like a cabbage salad with bacon and caraway, and deviled eggs with a sour cream and pate sauce.  YUM!  I'll post them soon.  Now for the recipe: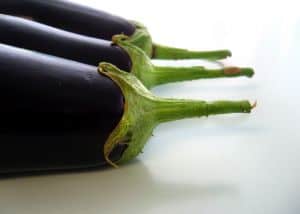 Romanian Eggplant Salad
2 globe eggplants, roasted
1 medium onion, chopped
1/4 cup mayonnaise, homemade or store-bought
Roast eggplants in a 450F oven or on an outdoor barbecue until the insides are very soft.  Let them cool in a strainer to drain well.  When cool, remove the skin and mash the pulp by hand.  (Using a food processor for the eggplant makes it too airy.)  Puree the onion in a food processor until it starts getting soupy.  I sometimes add some water to help it along.  Squeeze out most of the moisture from the onion using a paper towel.  Add the onion and mayo to the eggplant and mix well.  Add salt to taste.
It's traditional to serve this salad with sliced tomatoes and bread.  You can also use this as a spread on crackers or on a sandwich.  While I'd love to share a photo showing an amazing arrangement of tomatoes and bread with this salad, I usually just grab a spoon and go to town.  After you taste this salad, you might just do the same thing.  Enjoy!