Hummus is a miracle food in more ways than one.  Not only is it super nutritious, but really versatile and really cheap to make.  Besides great flavor, hummus has lots of protein, fiber and good fats.  I use hummus as:
An appetizer with pita bread or pita chips
A sandwich spread instead of mayonnaise
A dip for raw vegetables like carrots, celery and broccoli
A side dish with rotisserie chicken
An ingredient in a falafel
A snack by itself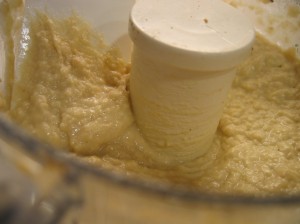 Now most middle easterners would probably disagree with me, but you can make hummus in many different ways with all kinds of ingredients.  While classic hummus is nutty and earthy from the chickpeas (garbanzo beans), tahini (sesame paste) and olive oil, you can go crazy with the ingredients.  I do love the traditional ingredients with lots of lemon and raw garlic.  Here is my standard recipe:
Garlicky Hummus
1 can of chickpeas (rinsed)
2T Tahini
2T Olive oil
2T lemon juice
3-5 cloves of garlic
1/2t salt
1/2t cumin
About 4T water
Fresh ground pepper
Put all these ingredients (except water) into the food processor and blend.  Add water until it turns into a smooth paste.  The longer you blend the smoother it will get.  Adjust the amount of tahini, olive oil, lemon and garlic to suit your taste.  To serve as an appetizer, spread onto the center of a large plate and garnish with a sprinkle of paprika and cumin, drizzle of olive oil and some fresh, chopped parsley.  Serve with pita bread.  YUM!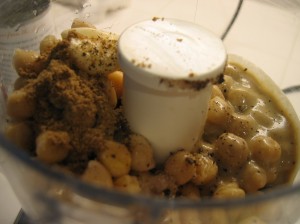 Variations
There are an infinite number of variations.  Consider these ideas:
Roast the garlic before adding it to the mix.
Add sun-dried tomatoes.
Substitute a different kind of beans for the chickpeas.  Pinto beans give you a creamier texture with a slightly different taste.
Substitute a nut butter for the tahini.  I've never tried this but I think cashew butter would be good.
Substitute a nut oil for the olive oil.  Walnut or hazelnut oil adds a nutty flavor.
As I write this, I'm imagining a mexican-themed hummus using pinto beans, onions. cumin and oregano.  Then served as a dip for tortilla chips garnished with chopped cilantro and cotija cheese.  Mmmm… I better run out and get some chips!!!