This is our variation on the original Betty Crocker meatloaf recipe. We love Betty Crocker's original home-style meatloaf recipe. The ingredients are so simple that you probably have everything in your kitchen right now. The instructions are as simple as it gets- mix and bake! The result is a fine meatloaf, but it's very basic. We knew we could improve this recipe but keep it as easy to make as the original.
Our variation on the original still has an irresistible all-American flavor. We simply wanted to increase the deliciousness by 10x but still use ingredients you already have in your kitchen.
Why is this better than the original Betty Crocker meatloaf recipe?
1. We boosted the seasoning to bring out the true meatloaf flavor
The original recipe does not have enough salt to bring out the flavors properly. Using the right amount of salt is one of the things restaurants are really good at. To solve this, we added a bit of soy sauce and parmesan cheese. Besides adding salt, this also adds a depth of flavor not present in the original. The right amount of soy sauce in any meat-based dish improves the meatiness without tasting like soy sauce. And, parmesan cheese is just about the most powerful flavor enhancer that nearly everyone keeps in their pantry. Even the stuff in the green cardboard tube is fine for this!
2. We replaced the milk to make the meatloaf taste more meaty
Milk was used to add moisture to the original recipe. Milk adds a nice dairy component but it covers up the meatiness of the beef. Since the added parmesan cheese brings some dairy, we replaced the milk with stock to boost the pure flavor of the meat. Beef stock would be best, but chicken or pork stock would work. We always use beef stock from bouillon because it also adds a touch more salt.
3. We baked the meatloaf upside down to reduce the greasiness
Baking a meatloaf in a loaf pan leaves nowhere for the fat and meat juices to escape. This means your meatloaf is simmering rather than baking. To solve this we flipped the loaf pan upside down for the first half of the cooking. This maintains a perfect loaf shape, but allows the liquids to run off. Removing the loaf pan after the shape is set allows the meatloaf to be glazed and brown on all sides.
4. We turned three simple ingredients into a magical glaze
Finally, we boosted the sweet and sour flavor of the glaze by adding a small amount of brown sugar and vinegar. This glaze will have a shinier finish, will be a touch sweeter and will have a more powerful kick. It will taste like something special rather than dried-on ketchup. We think a shake of hot sauce would be a fine addition to this glaze if you like the heat.
We hope you enjoy this variation on a classic!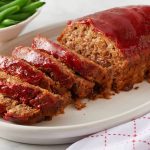 Print
Improved Betty Crocker Meatloaf
Simple tweaks on the original recipe to make this 10x better but just as easy to make.
Ingredients
1

lb

ground beef

80% – 90% lean

1/4

cup

onion

raw, chopped finely

2

eggs

raw, beaten

1

cup

bread crumbs, crackers or bread

1

tbsp

soy sauce

1/4

cup

parmesan cheese

2

tsp

Italian dried or other herb mix

1/2

cup

stock

1/2

cup

ketchup

2

tbsp

brown sugar

1

tbsp

vinegar
Instructions
Mix everything except ketchup, sugar and vinegar

Pack into loaf pan and bake upside down on a foil lined baking sheet for 30min at 425F

Mix remaining ingredients to use as a glaze

After 30min, carefully remove the loaf pan. Glaze meatloaf and return to oven for another 20min or until a meat thermometer reads at least 150 degrees.
Notes
Italian seasoning typically contains dried basil, oregano, and marjoram. You can use any seasonings you like. We really like thyme, sage, garlic and onion powder for this recipe.