This is the best pan on the market at ANY price and it's only $30 (including a tempered glass lid!) Almost no one has heard of it, but it outperforms cast iron AND carbon steel hands down. I have owned this pan for a year and it's been nothing short of amazing. I use it for EVERYTHING because it's so functional. It comes in both 11″ and 8″ sizes.
This pan is made of nitrogen-hardened steel, which makes it different than most skillets sold today. The process of nitrogen-hardening, or carbonitriding is not new, but recent advancements have made it less expensive and more effective than in the past.
I have this pan, but I also have cast iron and carbon steel. This is my go-to pan every day because it outperforms the others in nearly every way. I included some photos of my actual pan at the end.
It does NOT rust, period
The nitrogen-hardening process transforms the surface of the pan by infusing nitrogen atoms. This results in a surface that is extra hard. It also keeps the pan from rusting. This is similar to the way that aluminum pans don't rust, but combining with oxygen to form aluminum oxide on the surface.
Both cast iron and carbon steel pans rust if they're not 100% covered by a fully seasoned surface. This pan will never rust even if you leave it unseasoned!
It does not scratch
The extra hard surface left by the nitrogen hardening process makes the surface nearly unscratchable. You'll be able to scratch through the seasoning, just as you can with cast iron and carbon steel. But, the pan underneath won't scratch. So you can reseason it to restore the finish to perfect any time.
It seasons like vintage cast iron
The surface of the pan should be seasoned like cast iron in order to create a non-stick surface. The main difference, though, is that the surface of this pan is super smooth already! Unlike newer cast iron pans that come with a rough texture, this pan starts perfectly smooth, and stays smooth after seasoning. People pay upwards of $300 for polished cast iron and vintage cast iron with smooth interiors. This pan has that for $30.
It is non-stick
Just like any well-seasoned cast iron or carbon steel skillet, this pan is non-stick. The smooth surface makes it even more non-stick than my cast iron.
It's not a teflon pan, though. You do need to heat it up first and add at least some oil to prevent food from sticking. But if you do, it will work like a charm.
It has no coating to scratch off
Unlike teflon pans, this pan has no coating that can scratch off. It's non-stick ability comes entirely from polymerized oil that forms the "seasoning" of the pan. This is how cast iron and carbon steel remain non-stick as well.
With your teflon pan, when the coating gets worn off, where do you think it goes?!?! It ends up in your food!!! So essentially, you ate the coating that is no longer on your teflon pan. That can't be great for your body.
It is lighter than cast iron AND carbon steel
This is the lightest iron or steel skillet you will ever own. A Lodge 10.25″ cast iron skillet weights 8 lbs. A DeBuyer 10.2″ carbon steel skillet weighs over 4 lbs. This 11″ nitrogen hardened pan weighs only 3 lbs! And it's almost an inch larger! Compare for yourself:
FYI: I have all three of these skillets. I love them all, but I use the nitrogen skillet 95% of the time, but it's so light.
It heats up faster than cast iron or carbon steel
Because this pan is lighter than both cast iron and carbon steel, it heats up extremely quickly. It also heats very evenly.
It sears a steak as well as cast iron
I love a hard sear on a steak or burger. I heat this pan up to smoking and it sears as steak as well as any cast iron pan. In fact, because the surface is so smooth, you end up with an even better crust than with newer rough cast iron pans.
It's oven safe
Just like cast iron and carbon steel, this pan has no plastic parts or teflon coatings. It's 100% metal so can go into the oven at ANY temperature. In fact, if you want to reseason it, you can run it through the oven's cleaning cycle to strip off the seasoning and start from scratch.
The handle on this pan stays cool
This pan has a handle that stays cool on the stove top. I use this pan every day and have never needed to use a hot pad to hold the handle. It is designed to stay cool for as long as the pan is in use.
It includes a really nice tempered glass lid
I would have been happy with this pan without a lid. But, it includes a really nice one!
Here is my baby
This is my pan after a year of nearly every day usage. The surface may look a little rough, but it's just from variations in color of the seasoning. I'm about due to reseason it! I love the glass lid. It's so useful!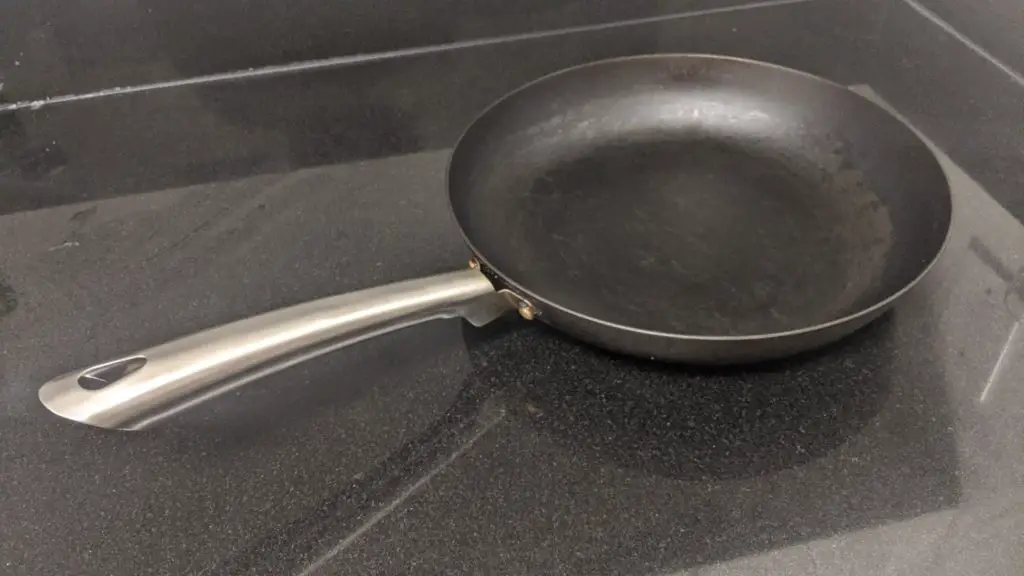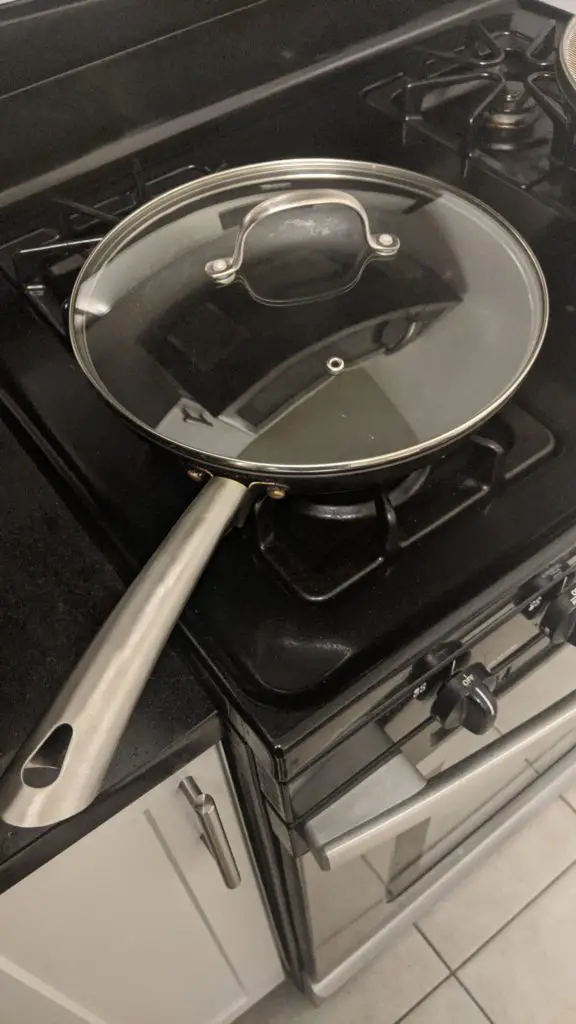 Comparison of similar, popular pans
The truth is, all of these pans are great. With proper care and use, they will all last a lifetime and make amazing food. The nitrogen hardened pan edges the others out in my opinion because of it's inability to rust, lighter weight and stay-cool handle. These small things make daily use a dream!