Giardiniera is a flavorful mix of chopped pickled vegetables in olive oil. It's usually crunchy, sour, a bit oily and often spicy. It's well known all over the midwest United States. But, is probably best known as the key topping on a Chicago Italian beef sandwich.
The easiest substitute for giardiniera is to drain and coarsely chop any sour pickled vegetables such as sport peppers, pepperoncini, jalapenos and/or pickles. Then add a small amount of dried oregano and olive oil. The result will give you the sour, spicy and herby notes of giardiniera.
I just ran out of giardiniera and need a quick substitute
If you need a giardiniera in the next hour, you can make a quick giardiniera using nearly any pickled vegetables. There are other vegetables that work as well. Sour pickled vegetables work the best. I would stay away from any pickled vegetables that are very sweet such as sweet pickles.
Here are some pre-pickled vegetables that I found work really well:
Pepperoncinis
Sport peppers
Pickled jalapeno peppers
Pickled roasted bell peppers
Jarred artichoke hearts
Canned mushrooms
Olives, pitted
Capers
To make the substitute giardiniera, chop your combination of vegetables in order to end up with about 1 cup total. Add 2 tablespoons of olive oil and 1 tsp of dried oregano. You probably don't need to add any salt. It will get better as it sits, but you can use it immediately.
I don't have any giardiniera and have never tried it
Most supermarkets carry at least one or two brands of giardiniera. It should be in the same section as the pickles. If you're outside the midwest your options may be limited to national brands, which are ok, but not as good as the local brands.
Fortunately, there are a ton of giardiniera options available on Amazon. Here are a few awesome options:
I don't like giardiniera
If you don't like the sour kick of giardiniera, you might like New Orleans-style olive salad. It's a key ingredient in a muffaletta sandwich and brings a ton of flavor but is much less sour than giardiniera. The most well-known olive salad is made by Central Grocery in the French Quarter of New Orleans. The line to buy a muffaletta or olive salad sometimes goes out the door and down the block!
Central Grocery's olive salad is also available on Amazon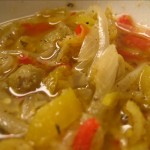 Print
Giardiniera Substitute
Here is a quick way to make something close to a giardiniera to liven up your sandwich.
Ingredients
1

cup

Pickled vegetables, like jalapeno peppers, sport peppers, pepperoncini, artichokes, sweet peppers

or any other sour pickled vegetables

2

tbsp

olive oil

1

tsp

dried oregano
Instructions
Chop pickled vegetables into 1/2" pieces.

Add olive oil and oregano. Mix well and let sit for an hour.

Pile on your hotdog, sandwich or anywhere else you need a big kick of flavor