I've been looking for a recipe for the Jack in the Box mayo-onion sauce on-and-off for many years. This sauce was the magic behind the Sourdough Jack, Chicken Supreme and the pre-2002 original and best Ultimate Cheeseburger. I loved the original Ultimate Cheeseburger and was sad when they replaced the mayo-onion sauce with ketchup, mustard and mayonnaise, essentially removing the "ultimate" and making it just another cheeseburger. Jack in the Box phased the mayo-onion sauce out of their menu completely in 2016 in favor of regular mayo.
Jack in the Box mayo-onion sauce is made from mayonnaise, vinegar, sugar, onion powder, and mustard. Reproducing the sauce is as simple as mixing the ingredients and allowing to sit for a few hours for the flavors to meld.
If you were a fan of the Bonus Jack and pre-1999 Jumbo Jack, check out my recipe for Jack in the Box secret sauce.
The quest for mayo-onion sauce
I started trying to make this sauce in order to recreate the original Ultimate Cheeseburger. It was a simple but amazing burger. It consisted of two patties, three types of cheese and mayo-onion sauce, on a bun. You could optionally get a version with bacon. It came wrapped in a half-foil sheet before Jack in the Box went to all paper wrapping. I wish I could find a photo of the burger to show you!
I searched Google every so often when I would think about trying to recreate that burger. I finally came across the definitive list of ingredients by locating the Jack in the Box website from 2002 on archive.org. There was a page that lists every ingredient in every menu item including all sauces, sodas and even the burgers (100% beef, phew).
Once I knew the ingredients, it was a simple matter of experimenting with ratios and taste testing in order to nail the recipe.
Recipe notes
I believe this recipe is indistinguishable from the original. It's impossible to compare it side-by-side, though, since Jack in the Box has since phased out the sauce completely. But, if you were a fan of any of their sandwiches that used this sauce, you'll immediately recognize the slightly sweet, slightly tart, oniony kick.
The recipe is listed below and is very simple and flexible. I tested with common ingredients found in most kitchens so you shouldn't need to go to the store for anything. The only optional ingredient you might not have is xanthan gum, which I discuss below.
If you're trying to make this as close to the original as possible, here are a few notes:
Most onion powder is actually finely granulated onion. This will leave a slight grainy texture to the sauce. If you want it ultra smooth like the original, look for onion powder that is truly powdered. Here is an Amazon link for an ultra fine onion powder for about $3.
Ground mustard powder is ideal. Yellow mustard will taste the same, but the turmeric added for color will make your sauce slightly yellow. The original sauce is very white.
Corn syrup works slightly better than regular sugar since it will mix with the ingredients easier. If you're using corn syrup you can mix all the ingredients at the same time instead of first dissolving the sugar.
The easy way to adjust the intensity of this sauce is to mix all the ingredients first, except for the mayonnaise. Then add half as much mayonnaise and taste the result. If it's too powerful you can continue to add more mayo until you get to the flavor you like.
Do I need xanthan gum?
Xanthan gum is listed in the original ingredient list and I used it in my testing while developing this recipe. It's a common fast food ingredient and does give the final sauce a very familiar texture and mouthfeel. It's fine to leave it out if you don't have any, though. The only difference is that the sauce will be slightly thinner. If the end result is too thin for you, another option is to use cornstarch. I would add just a pinch or two of cornstarch to the vinegar mix (before adding the mayo) and then microwaving a few seconds until just bubbling. It should thicken slightly.
Xanthan gum is super useful and used in all sorts of processed foods. It's also super cheap on Amazon. A tiny amount of Xanthan gum lasts FOREVER! I only use a pinch here and there. I'm still using some that I bought more than 10 years ago. Here is a high quality vegan brand on Amazon for less than $5.
The recipe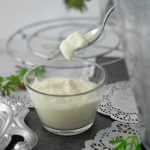 Print
Jack in the Box mayo-onion sauce
A recreation of this iconic sauce from Jack in the Box that was used on the Sourdough Jack, Chicken Supreme, Ultimate Cheeseburger (pre-2002) and Hot Ham and Cheese.
Ingredients
1.5

tsp

white vinegar

1

tsp

granulated sugar

or corn syrup

1/4

tsp

onion powder

1/8

tsp

dry mustard powder

or yellow mustard

1

pinch

xanthan gum

optional

2

tbsp

mayonnaise
Instructions
Mix the vinegar, sugar, onion and mustard until the sugar dissolves

Add a pinch of xanthan gum while mixing and allow to sit until it thickens slightly

Add mayonnaise. You can use it immediately, but it will get better as it sits. Allow at least an hour for the best flavor.
Notes
This should make enough sauce for about four burgers or sandwiches.