This is the best coleslaw recipe I can imagine to go with pulled pork. The flavors are designed to be subtle and compliment the pork, not overpower it. If you've just made a spectacular smoked pork shoulder, the last thing you want is coleslaw that covers it up.
This coleslaw recipe features finely sliced cabbage and onion in a light and creamy dressing. The dressing is very lightly sweet and tart and will complement any pulled pork sandwich. The method of prepping the cabbage will leave the perfect amount of crunch.
I wish I could take full credit for this recipe. It's based on one by Serious Eats that I thought was awesome, but a bit too flavorful to go on a pulled pork sandwich. I tweaked their recipe quite a few times until I came up with this variation that is just about perfect to me. I've made this same recipe many times to eat with fried chicken sandwiches and other BBQ meals and it always gets rave reviews.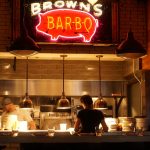 Print
Creamy coleslaw for pulled pork
This coleslaw is designed to be the perfect topping (or side dish) for a BBQ pulled pork sandwich. It has a light, creamy dressing and won't get nearly as watery as other coleslaw recipes because of the preparation of the cabbage.
Ingredients
1

head (~3lbs)

green cabbage

sliced thinly, or pre-sliced cabbage

1

whole

white onion

sliced as thinly as you can

1

cup

sugar

white granulated

1/2

cup

kosher salt

or 1/4 cup table salt

3/4

cup

mayonnaise

1/4

cup

vinegar

white or apple cider

1/4

cup

sugar

1

tbsp

black pepper

ground, to taste
Instructions
In a very large mixing bowl, combine the sliced cabbage and onion with the sugar and salt. Massage the mixture by squeezing the cabbage and onion between your fingers until the cabbage starts to feel wet. Do this for about 5 minutes and let sit for 15 minutes.

Rinse and drain the cabbage. Dry it well with paper towels.

Mix the remaining ingredients into a large serving bowl until the sugar dissolves. Add the cabbage and mix. Let sit for an hour (or up to 24 hours) before serving.
Notes
The initial massaging of the cabbage with sugar and salt does two things. It draws water out of the cabbage so it doesn't get as watery after adding the dressing. It also seasons the cabbage so that it has just the right amount of salt all the way through the cabbage (not just in the dressing).
You shouldn't need to add any salt to the dressing, but if the finished coleslaw tastes like it needs more salt, it's fine to add some.