Adobada and adovada both refer to pork marinated in a sauce made from dry red chiles and other spices. The dishes are similar but have slight differences based on their regional origins.
Adobada means "marinated" in Spanish and is a dish that originated in Mexico. It is based on pork, dried red chiles and spices and can be braised or grilled. Adovada refers to a dish from New Mexico that also contains pork but features local New Mexico dried red chiles and is always braised.
Both dishes have a rich chile flavor however the Mexican variation is often more complex with the addition of more ingredients. The New Mexico variety is generally much simpler and is focused on the pure taste of the chiles and meat.
Adobada is pronounced ah-doh-BAH-duh. Adovada is pronounced nearly the same, ah-doh-VAH-duh. The variations in spelling are because the letters B and V in Spanish are essentially pronounced the same. Both sound somewhere between the sounds of B and V in English. You can hear the pronunciation here.
Adobada
Carne adobada can be found over most parts of Mexico. In some areas it may be called carne enchilada or cecina enchilada. The marinade is also very similar to that used for al pastor, but the cooking method is very different.
Adobada has a deep, earthy flavor from toasted guajillo chiles. It's also rich and complex from the spices used.
Meat for Adobada
A braised adobada often starts with a pork shoulder cut into large cubes, but can also include pork ribs. This is a good preparation for tough cuts of pork.
Grilled adobada often starts with thinly sliced pork shoulder or leg. The thin slices cook quickly and take on a nice char when cooked over hot coals or on a griddle pan.
Adobada spices
The main spice used in adobada is the guajillo chile. It's one of the most commonly used chiles in Mexico. It has a small amount of heat and provides a flavorful backbone for many Mexican dishes.
When compared to recipes for adovada, adobada generally contains a lot more ingredients. Common additional ingredients include vinegar, oregano, garlic, cumin, thyme, cloves, bay, allspice, cinnamon, nutmeg and achiote.
Is adobada spicy?
Adobada is not very spicy. The heat level can vary based on the chiles used, however. Most adobada will be made from guajillo chiles which are considered to be fairly mild. If you are extremely sensitive to spicy food you might want to try something else, but most people would consider adobada to be mild.
How to serve adobada
A braised adobada is great served with a side of rice and beans and warm tortillas.
Grilled adobada is often used a filling for tacos.
How to make adobada
The easiest way to understand the adobada preparation is to watch a video. The best adobada videos are in Spanish, though. Below is a video from one of my favorite cooking YouTubers. You can turn on English auto-generated subtitles if you don't speak Spanish.
Adovada
The New Mexican adovada is a very simple dish that showcases one of New Mexico's finest products, which are it's chile peppers. The New Mexico red chiles used are not very hot but have a bright flavor and color. Chiles are often toasted before rehydrating to deepen the flavor. With adovada it's best to leave the chiles untoasted to preserve the brightness.
Adovada is often much simpler than the Mexican dish on which it is based but generally contains pork, red chiles, garlic, oregano and cumin. The spices are very similar to those used for American chili. The flavor is bright from the New Mexican chiles and subtly complex.
Meat for adovada
Pork shoulder is the preferred cut for adovada. I would start with a boneless shoulder and cut into 1-1/2″ cubes. There is no need to brown the pork at the start of the recipe, as is common with stews. The focal point of this dish is the red chiles, so there isn't a need to develop any deep meat flavors before adding the rest of the ingredients.
This video below is a great, well-tested adovada recipe.
Which one is better?
There is really no sense in trying to compare adobada and adovada. Both are amazing! Below is my recipe for Mexican-style adobada.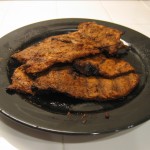 Print
Grilled Pork Adobada
Pork marinated in a flavorful red chile paste.
Ingredients
2

lbs

pork shoulder or loin

sliced thinly

3

tbsp

dark red chile powder

guajillo, ancho, or other dark red chile

1

tbsp

garlic powder

1

tbsp

mexican oregano

1

tsp

cinnamon

1

tsp

salt

1

tsp

sugar

2

tbsp

cooking oil

1/4

cup

vinegar

white or apple cider

black pepper

to taste
Instructions
Slice the pork into 1/4 inch slices and set aside. 

Mix the remaining ingredients except for the vinegar. 

Add vinegar until you end up with a paste about as thick as gravy. 

Add the pork and mix with your hands until you coat all of the pork.

Fire up the grill and cook uncovered over high heat for a few minutes on each side. 
Notes
The marinade should be thick enough to stick to the pork well.  Because the mixture acts almost more like a rub than a marinade, you can just put this straight onto the grill.

Ideally, you should heat the grill to hot enough so you can char each side without drying out the meat.  If you don't think your grill gets that hot, try just cooking on one side until the meat is cooked through and then remove (without ever flipping over).